The BASN 2010 World Cup Review
By Andrew L. Dixon, III, BASN Staff Reporter
Updated: July 16, 2010
MIAMI (BASN) — The Vuvzelas have fallen silent.
After one month of intense competition, blown calls, hard fouls, disappointing performances and dramatic moments, the 2010 World Cup has come to an end with Spain becoming the first European nation to claim a World Cup on another continent with its 1-0 extra time win over the Netherlands.
There were plenty of talking points surrounding this tournament. Injuries ruled out a number of players who were expected to make an impact such as Germany's Michael Ballack, Ghana's Michael Essien, Nigeria's John Obi Mikel, Portugal's Nani, England's Rio Ferdinand and the US' Charlie Davies.
The fact that Africa was hosting the tournament for the first time was the elephant in the room because it was questioned whether the could successfully pull it off.
And then there was the play, some surprising, some disappointing, some exhilarating. Here's some the highs and lows that I'll take from the 2010 World Cup:
Surprise team: Uruguay
Yes, you have to give props to New Zealand who went through this World Cup without losing a match to my and many others utter amazement. Japan and S. Korea normally don't play well away from home but managed to gain the second round for the first time since they co-hosted the tournament in 2002.
But you have to imagine that the only people who had Uruguay as the last South American team standing at this World Cup live in downtown Montevideo. Keep in mind, they were the last S. American team to qualify after defeating Costa-Rica in a two-legged playoff.
Given the talent and experience of Argentina and perennial favorites Brazil, the impressive defensive record of Paraguay few truly expected the Celeste to extend their tournament to the semifinals. Yes, they may have gained the semis in dubious fashion but the play of Diego Forlan, Luis Suarez, Diego Suarez and the leadership of Oscar Tabarez made this tenacious side very tough to beat.
Uruguay's Diego Forlan was
a force throughout the tounament
(sportsmedianet)
Broadcasting- I was a little skeptical when it was announced that ESPN was bringing in a group of English announcers to anchor the coverage here in states, especially when long time American announcer JP Dellacamera was shunted off for ESPN Radio. My issue wasn't with the announcers themselves, Martin Tyler is a legend in England. But I wondered whether it gave the wrong impression to the casual fan; that this was clearly a foreign game, so much so that we don't have good enough American announcers.
That being said, I thought the broadcasts were pretty good. Martin Tyler was a little too laid back for my taste but he was accurate in his calls and knew when to be let the scenes play themselves out with him talking. His partner, former Nigerian international Efan Ekoku was ok even if he was utterly unclear on the offside rule in the South Africa-Mexico match. I thought John Harkes was fine, certainly better than Marcelo Balboa four years ago. I didn't hear much of Derek Rae and only maybe a game of Adrian Healy who is usually pretty good.
For me, Ian Darke was excellent throughout and clearly the best of the lot. He was passionate when he needed to be, critical when it was necessary and his call of Landon Donovan's goal against Algeria will stay in the memories of US fans for a long time. I look forward to hearing him call games again in 2014.
Ian Darke: Outstanding
(sportnetwork.net)
I thought the in-studio analysts were ok. I was very glad to see Bob Ley back because he's long been a soccer supporter. His Outside The Line feature on the soccer league started on Robben Island by anti-apartheid political prisoners was excellent. Chris Fowler was very professional. Alexi Lalas seemed to have it in for Diego Maradona which got annoying after awhile and it was kind of strange seeing Mike Tirico doing anything related to soccer (guess he drew the short end of the stick) as he's a golf head.
Above all, though I really enjoyed Steve McManaman. The former Liverpool and Real Madrid player was funny, knowledgeable and realistic, even when talking about his beloved England. He's another I look forward to seeing and hearing more of in 4 years.
Overall the presentation package was good and they rewarded with a 41% increase in viwership.
Officiating-I remember the outcry after the 2002 World Cup about how there weren't enough experienced officials working the World Cup. Then four years later, the European refs didn't exactly distinguish themselves (3 yellow cards? Really Graham Poll?) leaving a bitter taste in many people's mouths. You figured it couldn't get much worse right?
Well so much for that. I don't remember seeing this many high profile errors in one tournament since…um…wait…it'll come to me….never mind.
Maurice Edu's goal against Slovenia that was ruled out for some still unexplained foul. Clint Dempsey's goal against Algeria should have counted. Carlos Tevez first goal against Mexico should have been ruled off as he was a good yard offsides. Howard Webb came into heavy criticism for his failure to keep control of a foul plagued final where Nigel De Jong should have been sent off for his Bushido Brown (RIP) type kick to Xavi Alonso's chest in the first half.
But it was Frank Lampard's goal in the Round of 16 match against Germany that struck the cross bar and bounced a good two yards inside the goal line that will probably produce the most lasting effect. Jorge Larrionda missed the goal that every conceivable camera and fan caught and single-handedly reopened the discussion and support for goal-line technology that FIFA General Secretary Sepp Blatter aka (Grand Poobah) had previously said he would not entertain. Poobah now says he'll reconsider it so look for it by the time the 2014 World Cup kicks off.
Frank Lampard's goal should have
counted. The fact that it didn't will
reopen the conversation about
goal-line technology. (daily mirror.uk)
Don't Believe The Hype: About this time last year four years ago I railed against the hype that the English National Team got coming into the World Cup as outside favorites. I could simply retype the same words because England looked even worse this time around, sleep walking through the group stages and being run out of the stadium by Germany in the Round of 16. For all the talk of world class players, etc. they still have not won a major title since the Johnson administration. But at least they made it out of the group stage, something the finalists for the 2006 World Cup Italy and France can't say.
Italy looked a shell of themselves and France's Ambassador Hotel-like implosion will be the stuff of legend one day. The fact that only one African side emerged from the group stage was disappointing as well.
English overconfidence
was illustrated by this
headline from the Sun.
Don't Believe The Hype (DJ Premiere Remix): Anyone who was in a pre-World Cup commercial. Ronaldinho didn't even make the squad for Brazil yet was prominently featured in a Nike commercial.
Wayne Rooney? Nothing but a profanity-laced rant after their match against Algeria.
Frank Ribery? Did he play?
Kaka? Was injured coming in and barely made a mark on the tournament. Fabio Cannavaro? Played nothing like the MVP of the 2006 Cup.
Didier Drogba? Broke his arm before the Cup started and his team was done by the 2nd week.
Cristiano Ronaldo? Left his game in the hotel room, next to his hair mousse.
Lionel Messi? No goals, though it wasn't for lack of trying.
Same for Jozy Altidore.
Heck, Roger Federer was in that Nike commercial with Rooney and even he lost in the quarterfinals at Wimbledon.
Suffice to say if you got any shine coming into this tournament you were doomed.
Most memorable moment: The opening ceremony was impressive and to see Jacob Zuma declaring open the games, knowing that 20 years ago he would have never DREAMED of such a moment was emotional. The Andres Iniesta goal to win it for Spain so deep into extra time was historic and his tribute to a fallen player was heartfelt. Lampard's disallowed goal will probably have long lasting effects. The overall play of Spain's midfield was simply beautiful to watch.
But I'm an American so for me, Landon (The Truth) Donovan's injury time game winning goal against Algeria was THE definitive moment from this tournament.
The US were on their way out of the World Cup at the Group Stage, needing a goal to win and advance. It looked to be a frustrating end to the tournament until The Truth sent the US through as group winners. It set off wild celebrations by American soccer fans everywhere (myself included) a sample of which are captured by this brilliant YouTube video.
I love the guy sliding down the stairs.
Most heartbreaking moment: It's always sad when you see a team get eliminated because you can see how much it means to the players. Watching the last frustrating minutes of the US' Round of 16 loss to Ghana was hard.
But nothing, I mean NOTHING can compare to the way Ghana were eliminated in Quarterfinals against Uruguay in the following round. After pressuring the S. Americans' goal, the lone African side remaining were awarded a 120th minute penalty after Uruguayan striker Luis Suarez used his hands to keep out a certain goal. Asamoah Gyan, the Black Stars leading goal scorer, stepped up with a spot in the semifinals and the hopes of an entire continent on his right foot…and hit the cross bar. Ghana went on to lose on penalty kicks.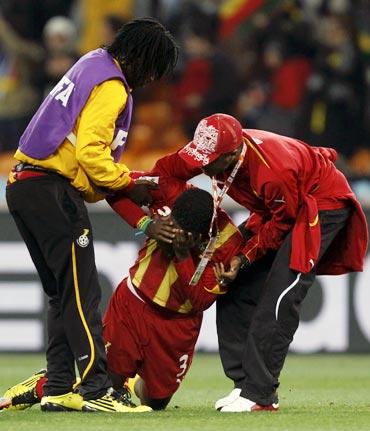 Asamoah Gyan consoled after
Ghana lost to Uruguay (rediff)
Said Ian Darke "That is one of the cruelest exits I've ever seen in World Cup history."
Goal of the Tournament: South Africa's Siphiwe Tshabalala blast in the opening match against Mexico was a great finish. The Truth almost took off of the Slovenian goalkeeper's head with his goal in the opening minutes of the 2nd half of that match. Diego Forlan had a number of great goals including his volley against Germany in the 3rd place match and the strike he had to equalize against Ghana. Carlos Tevez deflated Mexico with his second goal of that match, a strike from about 22 yards out that flew past Oscar Perez. I'm still trying to figure out the angle on Maicon's goal against N. Korea.
But for me, the goal of the tournament was the 40 yard laser by the Netherlands' Giovanni van Brockhurst from the left side of goal that hit the right post and skimmed in. Simply an unbelievable goal that sent Holland on their way to the final past Uruguay.
Villian: While Koman Coulibaly, the referee from the US-Slovenia match won't be welcome in any US Soccer Fan's home for the next millennium, nobody but NOBODY earned more negative will than Uruguay's Luis Suarez. It wasn't, as Eric Wynalda seemed to believe, because he kept out a certain goal that would have led to Ghana's progress to the semifinals.
No, it was that he was so proud of it. Likening it to Diego Maradona's hand ball against England in the 1986 World Cup, he proclaimed. "the hand of God now belongs to me," and insisted "I made the save of the tournament".
Suarez and his "save" (AFP)
Brutha, please. Maradona knew what he had done was wrong and only admitted it about 20 years later. Thierry Henry, didn't talk about what a great thing his hand ball was that set up the goal that qualified them for the World Cup. It was Suarez' auto-fellatio over his own hand-job that earned him the boos he got every time he touched the ball in the 3rd place match. THAT'S why he is the biggest villain of this World Cup.
Goal Celebration of the World Cup- I loved the choraegraphed celebration by S. Africa after Tshabala's goal. Diego Forlan looked absolutely ecstatic after every goal he scored. But you had to love the smooth, spontaneous rhythm of Asamoah Gyan and his Ghanaian teammates after he scored against Australia.
The "What the heck are you DOING?" Moment of the World Cup– Koman Coulibaly we are STILL waiting for the explanation on why Maurice Edu's goal didn't stand.
Sani Kaita, how stupid do you have to be to do this with your team up a goal? Greece went on to win the match against ten-man Nigeria, effectively eliminating the disappointing Super Eagles from the tournament.
But anything and everything that France did in this tournament wins hands down. How a team as stacked and as deep as France was to crash and burn the way they did was criminal. Uninspired play, bad tactics, Nicolas Anelka being sent home after cussing out his coach, players blowing off practice as a result of Anelka's expulsion, a fitness coach quitting and one freaking goal. To put it in perspective, New Zealand finished ahead of them.
Match of the Tournament: You could nominate Uruguay-Ghana for the finish alone and US-Algeria for pure drama. The third place was a wide open affair on a rainy night.
But the match of the tournament for me was the semifinal between Uruguay and the Netherlands. A tremendous goal by von Brockhurst. A stunning equalizer by Diego Forlan five mintues before half time. Another fine shot that forced a save. Wesley Sneider's deflected goal that could have been ruled offside given Robert van Persie's potential interference in front of goal. Arjen Robben's headed goal and seemingly disbelief at scoring in that matter that seemingly had wrapped it up for the Netherlands. Maximilian Pereira pulled one back in injury time after a well worked free kick and Uruguay conitneud to threaten but Holland held on.
Hero of the Tournament:
No question. Danny Jordaan and the people of South Africa.
When it was announced that the tournament was going to be held in S. Africa, many in the "First World" (Europe, especially in England and here in the US) and privately within FIFA predicted that the 2010 World Cup would be a complete disaster. They don't have the infrastructure, we heard. AIDS is still a serious problem there. They have a high crime rate. They won't the get stadiums done on time so the World Cup will actually take place here in the US. Those Africans simply don't have the capacity to get it this done.
According to these people an African World Cup experience would consist of you spending 12 hours in traffic, risking an attack by roving gangs of AIDS infected Blacks who waylay you on your way to half completed stadiums. It was, as Grand Poobah correctly termed "a disrespectful prejudice".
Well, critics, you ALL got it wrong.
The stadiums were all completed well before the Cup began. The hosts were warm and welcoming, even to the Dutch whose ancestors established the modern-day slavery system known as apartheid. Say what you want about the vuvuzelas, they provided a unique backdrop to the tournament, the likes had never been heard. "We have been able to show the world that we have what it takes to compete at the highest level, united in our diversity." said President Jacob Zuma.
Sure, there were traffic delays. You know what? I experienced the same delays on my way to see Argentina and Nigeria play…back in 1994 when those two countries played at Foxboro Stadium. Meanwhile, the wide spread crime wave that was predicted (looking at you British tabloids) didn't happen. The major security lapses that were expected (again, looking at you British tabloids) never occurred. In fact the most publicized was the one that was possibly staged by a British journalist who wrote several columns criticizing the preparations.
As it stands, the only major sporting events with security lapses that caused tragedy occurred in Western Europe (1972 Munich Olympics) and the United States (1996 Atlanta Olympics). Nowhere else.
So well done to Grand Poobah who insisted the Cup would be in Africa. Well done to World Cup CEO Danny Jordaan. Well done to the people of S. Africa.
That's it! The World Cup is done for another four years. Get ready for the carnival in Brazil in 2014!